Hello, my name is Taylor Fox and I am from Danville, Illinois. I have spent the majority of my life around livestock, which means I have spent a lot time building and repairing fence. I take extreme pride in building a durable, quality fence that will last years to come. I decided to take my expertise of fence building and use it to help others in the livestock industry to build the type of fences that I have taken pride in building for years. There is no better feeling than constructing a fence and seeing the look of satisfaction on my customers face. At Fox's Livestock Fencing, a satisfied customer is our number 1 priority.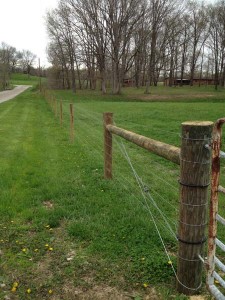 Our main focus is designing and building quality fences. In order to do so, it starts with quality materials. We use top of the line Class III wire fencing and CCA treated posts. Building a correct and effective fence is the most important consideration. We use the proper size line posts, end braces, and corner braces to provide strong and solid fences. We also provide fence and brush removal. We will clear your existing fence and brush, allowing a clear pathway to install your new fence.
With our experienced and knowledgeable team, we can promise you excellent service and guaranteed customer satisfaction.
Family owned and operated
Serving Illinois and Indiana